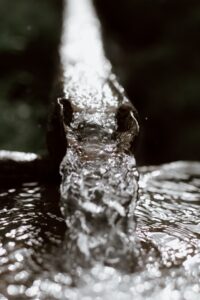 Usually, we don't spend a lot of time thinking about the danger of sewage water in the home.  It rains and water goes where it should. You can be in danger of sewer water contact if large volumes of storm water and ground water entering sewage systems cause back-ups into basements and on to private property. Blockages in sewer systems can also cause back-ups. What happens when it doesn't?  We've been having an unusually wet 2023, so it's a good time to discuss the danger of sewage water in or around your home.
What causes sewage water to end up where it shouldn't be?
Severe rainstorms, floods, and even spring thaws can put a strain on sanitary sewers and septic systems. Large volumes of storm water and ground water entering sewage systems can inundate them, causing back-ups into basements and on to private property. Blockages in sewer systems can also cause back-ups. Your health may be impacted if a sewage back-up occurs in your home. Sewage back-ups can contaminate your private drinking well water. It can also pollute surface water (lakes, ponds, rivers, and streams, and reservoirs used for drinking water). info courtesy of
Connecticut Public Health.
Can I Get Sick From A Sewage Back-Up In My House?
Sewage contains bacteria, viruses, and other germs that can cause disease and make a contaminated house unfit for living. The health risks around sewage are dependent upon the amount of sewage, the types of germs that are in it, the amount of time it has been in contact with materials in the home, and how much and how long an occupant was exposed.
Generally, the more solids (human waste) present in the water, the greater the need for prompt and proper clean-up of materials that came into direct contact with it. The most common illnesses one might acquire are generally gastrointestinal (GI) distress and/or skin rashes/infections. Respiratory infections are uncommon, because fecal microorganisms rarely become airborne when everything is wet, and these bacteria and viruses generally die off after things dry out. If you experience any GI symptoms (nausea, diarrhea, vomiting) after exposure to sewage, contact your doctor.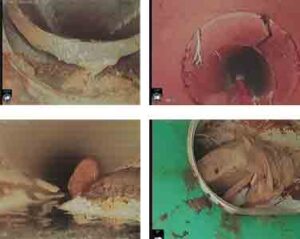 What to do if you have a sewage backup in your home:
If you have a back-up, do not flush the toilets.
Keep all children and pets away from the sewage.
Wear rubber gloves when handling anything contaminated with sewage. Wash hands immediately afterwards. Never touch raw sewage with bare hands.
If your home is served by a municipal sewer system, call your local sewer deptartment (town public works dept or water pollution control authority) or go to their website. See the reference section of this document.
If your home has a septic system, call your local health department for advice about how to dispose of the water/sewage. Then proceed to the next step.
Call your homeowner's insurance provider.
How can I prevent a possible danger from sewage water?
Plan ahead and prevent!  Know what's inside your sewer lines.
A sewer scope is a camera that is used to inspect the inside of a sewer line. By doing so, it can detect any issues such as cracks, blockages, or tree roots that may be causing problems.
Sewer scoping
is an essential part of the home inspection process at HomeTech, and it has become increasingly popular in recent years. A sewer scope inspection involves the use of a camera to inspect the condition of your home's sewer line. The camera is inserted through a cleanout or other access point, and it allows the inspector to see if there are any blockages, cracks, or other issues.
A sewer scope allows you to peer into the hidden depths of your property's sewer lines, ensuring they are free from problems such as cracked pipes, root intrusion, or blockages. By investing in this simple yet invaluable inspection, you can ward off future headaches and costly repairs that could arise if these issues went undetected.   Learn more about Sewer Scoping
here
.