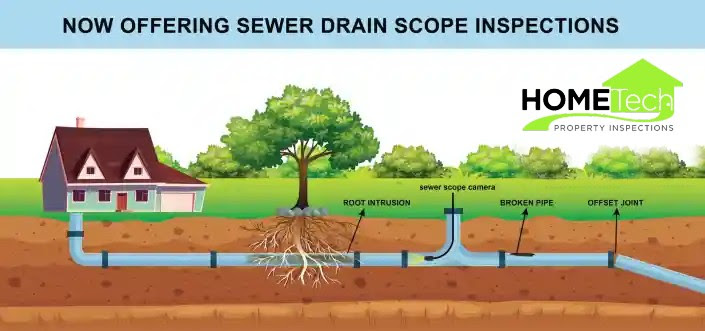 A HomeTech full home inspection provides you with a very detailed 2-4 hour full home inspection of every aspect of your home both in and out.  If you're planning on buying a home, especially one older than 20 years, you should consider adding an a sewer scope inspection.  This will reveal any issues in a home's sewage system.  Problems lurking underground can cost you thousands of dollars and it's critical to know about these issues prior to purchasing a home.
article below courtesy of Jenna Hall at redfin.com
What is a sewer scope inspection?
A sewer scope inspection gives you an inside look into a home's sewer lines. A professional home or sewer inspector will perform the inspection. They start by inserting a plumbing camera attached to a long, flexible cable into the home's drainpipe. The scoping camera streams video to a monitor allowing the inspector to look for any blockages, broken pipes, or other serious problems with the sewage system.
Why is a sewer inspection important?
As with any other home inspection, a sewer scope inspection allows you to get a better idea of a house's overall condition. Without a sewer inspection, you may be buying a home with a faulty sewer system. This can lead to costly and even dangerous problems for the house and the people living inside. A broken or damaged sewer system can cause a home to have:
Structural risks
Flooding in the home or backyard
Shifting or cracking in the home's foundation
Mold growth
Health risks
Rodents, flies, roaches, or parasites can enter damaged pipes and invade the home
Mold spores
Harmful gasses like carbon dioxide, methane, chlorine, nitrous oxide, hydrogen sulfide, and sulfur dioxide can seep into the house
Water from a broken sewage pipe can contain bacteria like E-coli, typhoid fever, salmonella, and cholera, and viruses like hepatitis A
Expensive repairs
The cost of an inspection is negligible compared to the cost to repair a broken sewer line. Simply repairing a broken sewer pipe can cost up to $300 per foot, and the average cost of replacing sewer drains can range from $2,500 to $30,000 or more. If the damage is severe enough to cause flooding, foundation issues, or mold growth, then you could be paying thousands of dollars in repairs.
Don't pass on a sewer inspection just because the home's plumbing is currently working fine, advises Peerless Plumbing Company. "Everything above ground may be perfect, but you may have a disaster waiting under your home. A sewer scope is the easiest, least expensive way to determine how your sewer lines will perform once you move in. Don't let a sewer backup be your first warning that something is wrong."
Lack of access to plumbing
Functional plumbing is essential to a household. If a sewage line backs up or breaks, it'll likely affect the home's entire plumbing system. This means that showers and sinks won't drain, and toilets won't be functional. When you first move into a home, the last thing you want is to move out for a few days because your house's plumbing is no longer functional.
Russell Joe from Quality Sewer & Drain wants to remind homebuyers that, "if you're buying a home and don't have your sewer line inspected beforehand to see its condition, you can be putting yourself at risk for a sewage backup or emergency repairs that could have been spotted ahead of time. As a homeowner, you should know the condition of your sewer."
It's better to be prepared and know ahead of time so you won't be caught paying for the problems that may arise.
What to expect during a sewer camera inspection
A sewer inspection should take no more than an hour from start to finish. The sewer camera inspection itself should only take about 5-10 minutes. The sewer inspector will first flush running water through the lines to clear any small debris and lubricate the pipes to keep the plumbing camera from catching on anything. The inspector will then locate your home's sewer access point, insert the camera, and begin the inspection. Once the process is complete, the inspector will follow up with their findings and talk about the next steps if necessary.
What do the inspectors look for during the sewer camera inspection?
Many inspectors allow you to watch the video feed with them while they are performing the inspection. During this time, you and your inspector will be searching for:
Broken or damaged pipes
Major blockages, clogs, or debris
Tree roots invading pipes
Any evidence of settling or sagging sewer lines
Improper piping materials (outdated pipes like Orangeburg pipes or sewage lines made of clay, plastic, or cast iron will likely need replacing)
Installation issues
Signs that you need a sewer line inspection
Before buying a home check if the property has any signs of potential sewage problems. Some key indicators are:
Patches of lush, green grass: Sewage can be a great fertilizer and can cause random patches of grass to appear lusher than its surroundings.
Large trees in the backyard: Large trees often have large roots; check to ensure the roots aren't growing into any sewer pipes.
A home built over 20 years ago: Homes built over 20 years ago will often have outdated piping material prone to breaking or cracking.
Rodent or insect problems: Pests can live in sewer tanks and enter a home through the plumbing.
Mold: A damaged sewer pipe can slowly leak water into a home, causing mold to grow.
Moving or shifting of the ground surrounding the home: If enough water or waste escapes the sewer system, it can move or shift the ground above.
Even if you have already moved into your home, it's important to watch for signs of a sewage problem. If you notice any of these, it may be time to call a plumber for a sewage cleaning.
Your water won't drain properly
You experience frequent clogging
You smell a foul odor from your sewer line
A sewage backup is present
Overflowing and clogged toilets
Similarly, Prodigy Plumbers advises, "If your home was a human, the sewer would be the main artery – and just like your body, your home can give small signs of potentially larger issues affecting your system. Knowing these signs may save you time and money on a larger repair, and as a preventative measure, we recommend scheduling an annual sewer inspection with a licensed professional to keep your drains clear and your mind at ease."