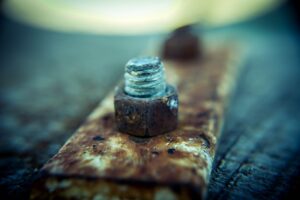 In Utah, we got a lot of precipitation in the winter, followed by a wet spring. Moisture and metal can mean rust. This month, we have some tips on how to prevent rust at home. "Whenever you have iron, water, and oxygen together, you get rust. The main catalyst for rust to occur is water. Although iron and steel structures seem solid to the eye, water molecules are able to penetrate microscopic gaps in the metal. This starts the process of corrosion." source
You might find rust near your roofing, siding, and gutters. It can also show up in places you wouldn't expect, like on the side of your boiler or inside your pipework. You should examine metals inside and outside your home for rust.  Outdoor areas that are commonly missed are areas with a lot of nails (deck), a kids swing set (important for safety!), areas near your garage.  Indoors check near your heating/cooling system, under sinks, along pipes, in storage areas and more.
Let's dive in to 9 ways to prevent rust. article below courtesy of tampasteel.com
What is Rust?
Rus
t is a form of iron oxide. It occurs when iron combines with the oxygen in the air causing it to corrode. Rust is the orange-brown discoloration that builds up on metal. Rust can affect iron and its alloys, including steel.
Rust causes the metal to expand, which can place great stress on the structure as a whole.  At the same time, the metal will be weakened and become brittle and flaky. Rust is permeable to air and water, so the metal beneath the rust layer will continue to corrode.
9 Ways to Prevent Rusting
Rust can compromise your metals' strength, making them fragile and shortening their lifespan. When it comes to keeping your metals looking their best while also maintaining durability, preventing rust in the first place is key. Exposure to outdoor conditions will increase the risk of rust, especially if the climate is rainy or humid.
The best ways to prevent rust at home include:
1. Galvanizing
Galvanizing is a method of rust prevention. This is accomplished through hot-dip galvanizing or electroplating. The iron or steel object is coated in a thin layer of zinc. This stops oxygen and water from reaching the metal underneath but the zinc also acts as a sacrificial metal. Zinc is more reactive than iron, so it oxidizes in preference to the iron object.
2. Corten or Weathering Steel
Use a weathering steel, also known as "COR-TEN" steel which contains up to 21% of alloying elements such as chromium, copper, nickel, and phosphorous. The alloys form a protective rust patina which reduces the corrosion rate with time. COR-TEN steel tends to be cheaper than stainless steel.
3. Stainless Steel
Rust resistant alloys. Stainless steel is an alloy and contains a minimum of 11% chromium. This allows the formation of a protective film of chromium oxide which acts as a shield against rust. The protective film will re-form if damaged. Corrosion resistance can be further enhanced with the addition of nickel.  When shopping for items for the home, using stainless steel is a great way to prevent rust at home.
4. Proper Pre-Design
The design should allow air to freely circulate around the metal. Proper planning during the design stage can minimize water penetration and reduce the risk of rust. Crevices and cavities should be avoided. Metal joints should be welded not bolted. If appropriate, drainage holes for water should be considered. For large structures, adequate access should be enabled to allow for regular maintenance.
5. Bluing
Bluing is immersing the steel parts into a solution of potassium nitrate, water, and sodium hydroxide and is a useful technique that offers limited protection for small steel items against rust. The reason it is called "bluing" is because of the blue-black appearance of the finish when using this technique. It is often used in manufacturing firearms to provide a degree of corrosion resistance.  It's also used in fine clocks and other metalwork.
6. Regular maintenance
If you build in regular maintenance, it will help to stop rust from forming and halt the progress of any rust that occurred. It's crucial to remove any rust that has formed. A razor blade can be used for small areas. Using warm water and soap, surface grime should be removed. Then, a rust resistant coating should be applied to the surface.  A full inspection prior to selling or even as a check in can be a good practice!
7. FOZZ
FOZZ is a balanced blend of Phosphoric Acid and other chemicals, wetting agents, and extenders that dissolve rust and prevent further rusting. Properly treated surfaces are ready to paint when dry. FOZZ is not a paint, but a primer that conditions metal so that paint will adhere.
8. Powder coating
Powder coating is when a dry powder is evenly applied to a clean surface. Then, the object is heated, turning the powder into a thin film. Acrylic, polyester, nylon, vinyl, epoxy, and urethane powders are available. Powders are applied using an electrostatic spray process. The electrically conductive object is sprayed with a charged, non-conducting powder.
9. Organic coating
A cost effective way to protect against rust is using an organic coating that forms a barrier against corrosive elements. Oil based coatings are ideal for preventing the penetration of water and oxygen.