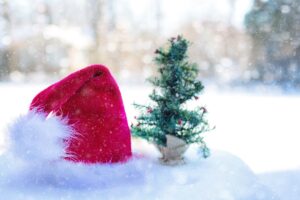 The HomeTech team compiled some of our favorite 2020 Park City COVID-19 Activities that are fairly COVID-19 safe and fun for all ages. While HomeTech is usually your resource for home inspections, we know the area well – we've been doing inspections since 2008.
2020 has been an unusual year, we've quickly learned what 6 feet of social distancing means as well as a quarantine and have worn masks to do just about everything from school to the grocery store.  By now, we're probably tired of it and likely looking for some fun things to do in the area with our family this holiday season.
Skiing/Snowboarding at the Local Resorts:
Both Park City Mountain Resort and Deer Valley are open for the season.  Take a few turns and get some fresh air while we wait for some mid-December or pre-Christmas storms. Both resorts require face masks per Summit County Health Department guidelines. Dining reservations are required (and hard to get!), so pack some granola bars to eat on the chairlift or pack some snacks for the car ride home. Note that Park City Mountain requires advance registration.
Historic Park City Snow Globe Stroll:
This is one of our favorite Park City COVID-19 Activities! The first snow globe was a product of an Austrian inventor in 1900.  His original intent was to improve the electric lightbulb; instead, he invented a magical winter-themed toy loved by all. Snow Globes evoke all that is whimsical and magical about the holiday season.  They often bring irresistible cheer to the viewer as they watch whirling snowflakes dust miniature scenes of winter. This winter, nine life-sized Snow Globes will line Park City's Main Street, evoking the emblem of winter, a cherished trinket, and gift-shop staple. Don't try to turn one on its top and give it a light shake. Instead, move closer to our Snow Globes, and the motion sensor will activate the flurries.  Inside, you might find animals that live in our mountains and forests, winter athletes, and even hot air balloons.  We encourage visits both during the day and night since the globes light from within. You can start your stroll at the bottom, the top, or the middle, but don't miss a single globe. Download the Snow Globe Stroll Map to follow along. The Snow Globes are scheduled to be removed on January 3, 2021.   This event is free and outdoors, masks and social distancing are required.
Park City Museum Free Days:
Thanks to a grant from the State of Utah, Arts & Heritage Division, admission is FREE on select days for you and your family to enjoy our world-class museum, including our new traveling exhibit: Jacob A. Riis: How the Other Half Lives. Join us Free on Friday & Sunday the last week of November (we are closed Thanksgiving Day), and every Friday and Sunday in December (except Friday, December 25 – we will be closed).  For more information visit us at www.parkcityhistory.org or call us at (435) 649-7457 ext. 136. Dates: December 4, 6, 11, 13, 18, 20, & 27.  Masks and social distancing are required.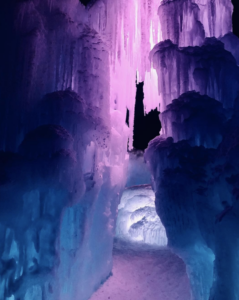 Midway Ice Castles
A classic one of the Park City COVID-19 Activities, but in Heber Valley! Ice Castles is an award-winning frozen attraction located in four cities across North America. The experience is built using hundreds of thousands of icicles hand-placed by professional ice artists. The castles include breathtaking LED-lit sculptures, frozen thrones, ice-carved tunnels, slides, fountains and much more.  Guests are required to wear masks / face coverings in common areas, near other guests, and when interacting with employees. To facilitate adherence to physical distancing guidelines, Ice Castles may reduce capacity or close some features of the attraction. Please be patient and understanding with these necessary operational changes.  Tickets are not on sale yet (as of 12/6/20), stay tuned for more information here: https://icecastles.com/utah
Utah Olympic Park
Thrill Seekers! Get outside and play during your holiday break at the Utah Olympic Park. Check out the Holiday Pass which includes unlimited day use of the Extreme Zipline, Discovery Course, Canyon Course, and Summit Course. We're also prioritizing your health and safety with distancing, sanitizing processes and more!
Park City Film
For those that want to cozy up by the Christmas tree, check out virtual programs by Park City Film.  From kids movies to adult documentaries followed by panel discussions, there's something for everyone. Most films can be streamed on a laptop, tablet, phone or TV.  More info here: https://parkcityfilm.org/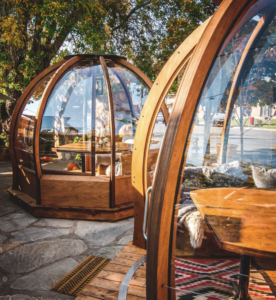 A Unique Outdoor Dining Experience
Cafe Galleria in Midway has installed "AlpenGlobes" which are an enclosed outdoor dining experience for you and your guests only. An Alpenglobe is a private outdoor dining shelter to keep you warm, without obscuring the view.  Reservations are hard to get, so be sure to plan in advance! Reservation information here.