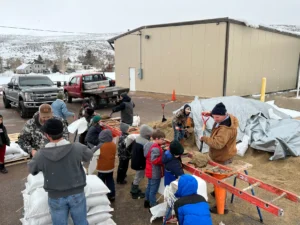 We complied a list of all the places to find sandbags in your area.
Many locations are self-serve, but if you need help, many communities offer services so the program is accessible to all. For planning purposes, it's estimated that a full sandbag weighs around 40 lbs.
In Summit County, sandbag pick-up has been set up in cities from Kamas to Coalville and Oakley. A link to the Summit County website with information on each location can be found here.
In Wasatch County, people can visit the sandbagging station at the Wasatch County Public Works Building in Heber City. There's a drive-through window on the north side of the building for people to check in with staff for access. From there, they can hand-fill empty bags, which are provided on-site. The station is open from 8 a.m. to 3 p.m. on weekdays. Those who need to come after hours can contact Hales at [email protected] or 435-657-3544.  More info here
Park City Municipal set up a sandbag pick-up station at the Public Works building on Iron Horse Dr. on Monday. 84060 residents and businesses can claim up to 25 filled bags. Unfilled bags and sand are also available. More info here.